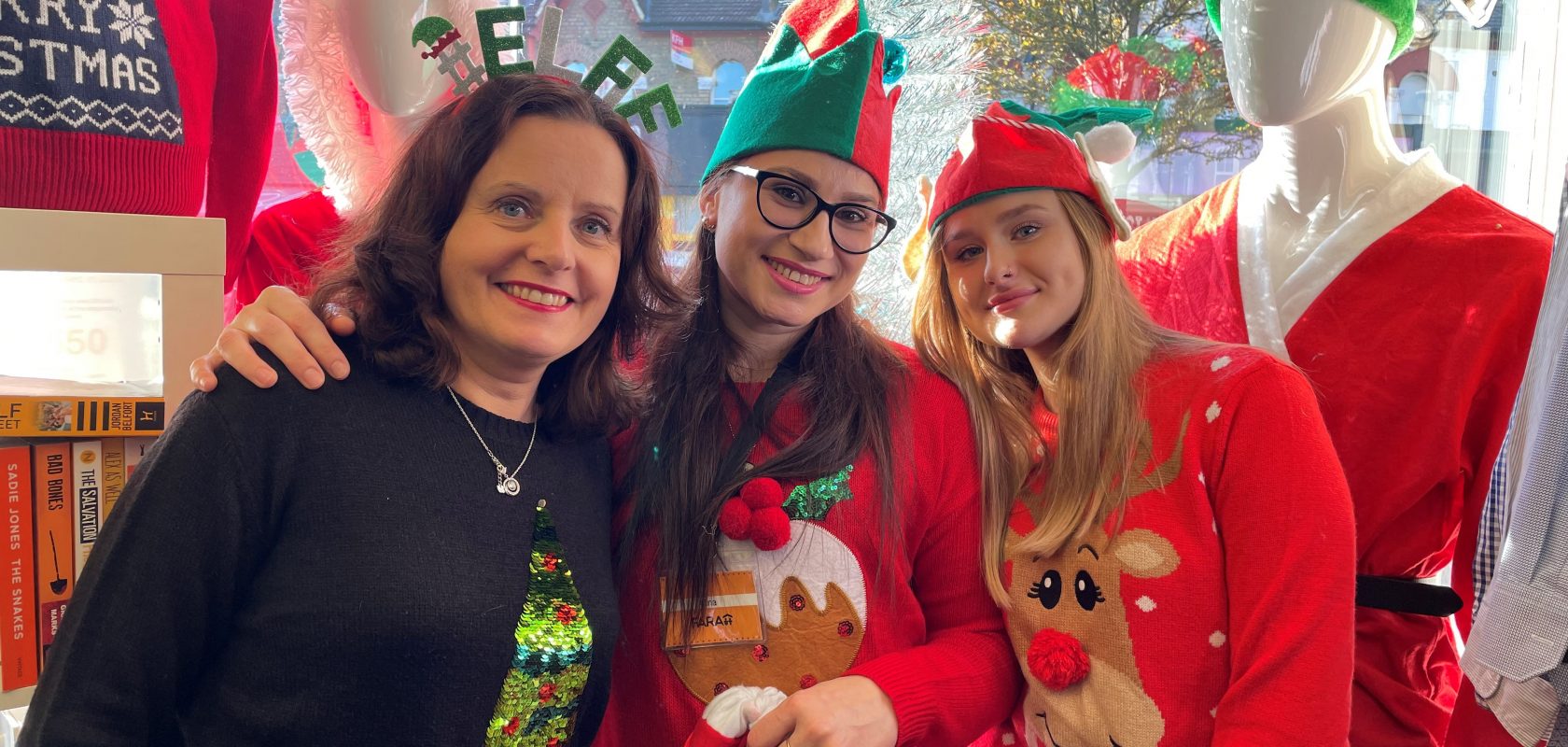 Shopping Sustainably with FARA Charity Shops
Have you joined the sustainable shopping revolution with FARA Shops this Christmas?
What do Carrie Symonds, Helen Mirren, Will.i.Am, Holly Willoughby and Nicola Coughlan from Bridgerton have in common? They're all converts to sustainable shopping. And this surge of interest is matched by predictions for the "resale" market, which, according to ThredUP, an online consignment store, is now growing faster than the mainstream retail sector and is expected to be bigger than fast fashion by 2029.
We are all being positively encouraged to buy more sustainably and add our own upcycled twist to our fashion, whether we're buying clothes made from recycled materials or pre-loved apparel.
As we approach the festive season, it could be a good time to incorporate some new sustainable habits. Christmas, despite all the excitement, is a time where we generate a lot of waste, be it the plastic packaging on toys, the decorative wrapping paper and bows, or just impulse buying gifts that end up never being used.
If you're looking to shop more sustainably this festive season, you'll be joining the cognoscenti and chattering classes.
Here are our top tips for shopping sustainably this festive season:
1.

Change your perspective on second-hand, and get crafty!
FARA Charity Shops gratefully accept all donations and through a careful sorting process the highest quality pieces are selected often including designer, brand new and 'used once' items. Our charity shops are full of hidden gems and exciting pieces and all items not of saleable quality are recycled. Sustainability is at the heart of what we do.
Extend the life of an item with your purchase and know that you're doing your bit for the planet, and our beneficiaries in Romania. Even better, add an interesting applique or get embroidering and create yourself a whole new piece of fashion!
---
2.

Take on the #NothingNew challenge, and let it take centre stage at your next Christmas party.
It's easier to be inspired to shop second-hand when you have the facts.
In buying #NothingNew, you may have to spend a bit of extra time finding the right item, but that's part of the fun! Our charity shops are run by an amazing team of people who select good quality items that suit every taste and every pocket, so you can hunt through an array of exciting styles and pieces to find the perfect gift.
Have a search through the #NothingNew hashtag on social media and be inspired by fashion influencers who pair together incredible second-hand pieces to create stylish outfits.
All you need is some inspiration to find fashionable pieces to wow at your next festive party, and dedication to buying #NothingNew to reap the rewards of second-hand shopping! Plus,  you are helping to reduce landfill hooray!
---
3.

Enjoy the perks of online shopping
We have a FARA Online Shop, where we sell carefully selected items kindly donated to our 41 charity shops in 27 London communities.
From clothing and Fine Art to books, cameras, and collectables  – there is something for every interest and every age group! The best thing about shopping at faraonline.co.uk is you can browse from the comfort of your own home, long after the high street has shut its doors for the night, giving you extra time to find the perfect pieces for your loved ones, and yourself!
Over the pandemic, we've online shopped more than ever. Make your purchases count, for your pocket, the planet and in supporting a worthwhile cause.
---
4.

Keep the second-hand cycle going
Your no-longer loved items could be someone's best purchase!
We take all donations in every FARA shop and promise to make the most out of everything we are given so we sustain FARA's commitment to vulnerable children and young adults in Romania.
We promise to share your generosity across London amongst our 23 general stores 15 dedicated FARA Kids' shops, our Book and Homewares stores and FARA's specialist retro, vintage and designer shop RETROMANIA London. Your valued donations are also shared on our FARA e-commerce website.
If it has value, we will endeavour to realise its potential.
Find a FARA Shop near you today 
We have 23 general stores, 15 Kids' shops, one of them dedicated to Books for kids as well as a general Bookshop, a Homeware store and FARA's specialist retro, vintage & designer shop, Retromania London.
If you're not local to our FARA Charity Shops, be sure to check out our website, FARA Online, where you can get 10% off your first purchase.