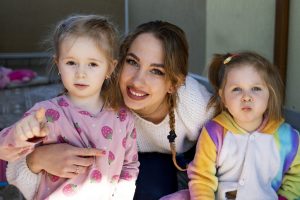 Since the start of the conflict, more than 12 million people have fled their homes in Ukraine. According to UN figures, 6.5 million are believed to be displaced within the country itself, whereas over 5.7 million have left for neighbouring countries. Romania has taken in the 2nd highest number of refugees, and at the time of writing – May 2022 – over 854,292 people had crossed the border here.
The FARA Foundation has been an established presence in Romania for over 30 years, and so was well placed to quickly provide support to those fleeing Ukraine. We were able to house women and children in our centres in Suceava County, as well as provide necessities such as food, medicine and clothing.
It was on a visit to one of our centres to document the work FARA is doing, that volunteer Photographer Cătălina Urse was moved to write an article about the women refugees she met there. (You can read her powerful words here)  Cătălina's accompanying series of portraits 'Women of Courage' highlights the strength, resilience and optimism of these remarkable Ukrainian families.
These are their stories:
All photos: Cătălina Urse www.catalinaurse.ro
Some of Cătălina's work from her visit to the Ukraine/Romania border in Siret.